1. I haven't taken a single picture with my SLR (or any real camera) since Christmas. BUT here are some iphone treasures!
2. I was at Home Depot yesterday with Avery and a lady told me my son was handsome which would be a compliment if I had Parker with me but I was devastated. Avery had pulled her hair bow off in the car and I figured, "it's home depot... the hair bow may be a bit too dressy!" It seriously ruined at the least the next hour of my day.
3. After aforementioned Home Depot trip, Avery's hair bow was now ON and we were walking into SBUX! 2 little old ladies starting gushing and saying "look how cute!" I smiled and said "Thank you! I'm smitten!" and then realized they were talking about the Maltese tied to the table behind me. I felt like a dork.
4. For my birthday, I asked for a tile backsplash and a vacuum. How old am I? But seriously... can I tell you how excited I am about this glass mosaic tile?! I basically stole it from Lowes. It rang up as $1.57 a square foot. Thank you tile gods. Pictures to come after Friday's installation!
5. I bought scrabble cheese its. Quite a confession, right? Parker's favorite snack (other than fruit snacks) right now are Cars2 Cheese its. They didn't have them at Target so I bought the letter embossed ones. Holy Mother of Pearl. The freak out was comical only since I was at home and no one was there to see my almost 3 year old freak out over what is embossed on his beloved cheese it.
6. It took me an hour and 35 minutes to get Avery to sleep in her own crib tonight. I am TERRIBLE at getting kids to sleep in cribs! It took me a week of drinking margaritas on the back patio while Parker cried to learn to sleep. It is MISERABLE, I hate hearing my babies cry and it is too cold to drink margaritas on the back porch. I KNEW I should have sleep trained Avie in the summer! ;)
So nothing TOO juicy this week.... I'll have to give myself a pat on the back for the lack of bad parenting this week. In fact, let me brag. I've even set my alarm each day, showered and looked presentable EACH day the last 2 weeks. My laundry is washed, folded put away and ironed (shoot out to my mom for ironing) and I'm feeling pretty darn good about life. Doesn't that deserve some sort of award?! YAY for a happy, put together week after the CHAOS of moving!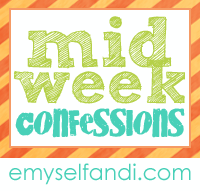 Spill the beans? What are you confessing this week?